Three servings of dairy a day, 3-A-DAY™ as part of a healthy, balanced diet, will help contribute to your calcium needs for one day. However, dairy doesn't only contain calcium. Dairy products contain essential nutrients, ranging from vitamin A to zinc. Everyone in the family can benefit from dairy's nutrients by consuming three dairy products every day. This will help make the diet nutrient-rich as dairy contains many nutrients.
Dairy's nutrients include:
vitamins A, B12 and riboflavin;

phosphorus, potassium, magnesium and zinc; and

protein
REMEMBER: The whole family need these nutrients for healthy bodies!
Research has shown that people who consume dairy products daily have better nutriet intake. Dairy products also collectively supply four of the seven nutrients that adults struggle to obtain daily. These include calcium, potassium, magnesium and vitamin A.
Dairy helps you to meet the daily requirements for certain nutrients
Many product labels refer to "% NRV", but what does this mean?
The NRV is a guide to ensure that you take in the minimum amounts of nutrients you need every day in order to maintain a healthy body.
For some nutrients the RDA has been redefined and new values based on scientific data have been established.
These are known as the Dietary Reference Intake (DRI).
The NRV's differ from the previous RDA's as they include more nutrients (36 and energy values) and a range of levels for different purposes, and provide advice on reducing risk of chronic disease.
The NRV, however, still include something known as the recommended dietary intake (RDI). The RDI is the average daily intake level for a particular nutrient that is sufficient to meet the requirements of nearly all healthy people in a particular life stage.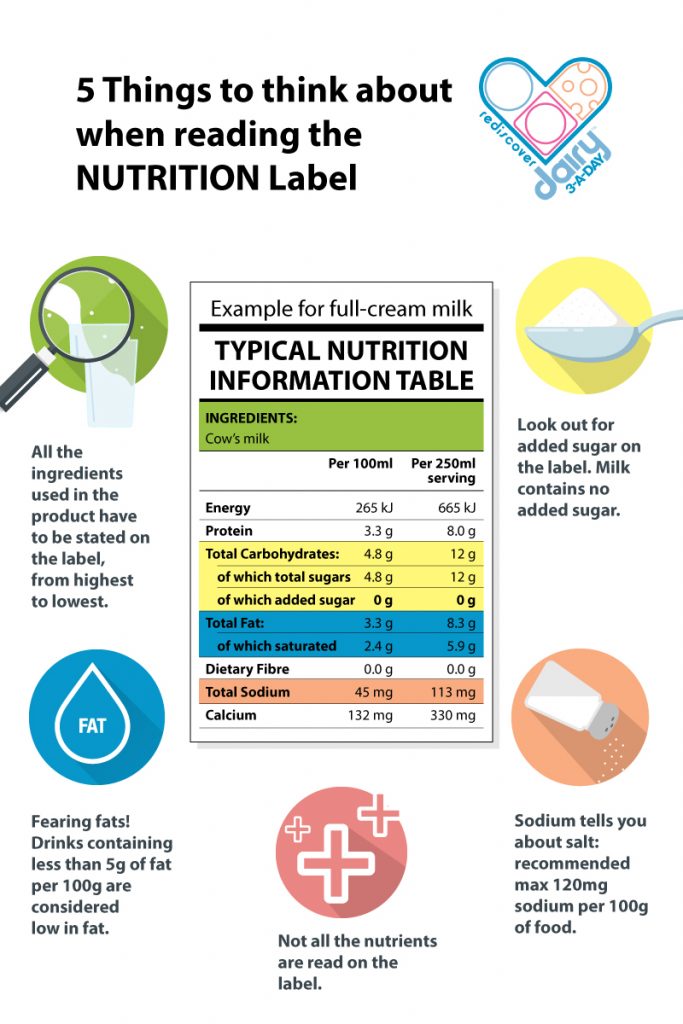 The table shows why 3-A-DAY™ is important for meeting your calcium and essential nutrient needs:
Nutrient contribution of

3-A-DAY™

(250 ml milk +

200 ml yoghurt +

40 g Cheddar cheese)

% NRV*

in 3 servings

Vitamin A      

31.7

Thiamin (B1)

8

Riboflavin (B2)

66

Niacin (B3)

2.9

Vitamin B6

13.2

Vitamin B12

96

Calcium

90

Potassium (RDA)**                 

      42       

Magnesium

17

Zinc

35.5

Phosphorus

52

Proteins

45.6

Carbohydrates ***

12.1
* NRV – Nutrient Reference Value
** RDA – Recommended Dietary Allowance