About us
Consumer Education Project
The project aims to convey the health and nutritional benefits of dairy and is continually evaluated and developed.
The Consumer Education Project (CEP) is an initiative of Milk South Africa (Milk SA).  Milk SA is a voluntary, non-profit company set up to promote the development of the dairy industry. Its' members are MPO and SAMPRO.
The project is multidisciplinary as it uses expert knowledge from different disciplines that is communicated to the target audiences through television, radio and print. A combination of sound scientific information and good understanding of consumer behaviour anchors the project. The project conveys messages that cannot be communicated adequately through conventional branded advertising.
Identity and logo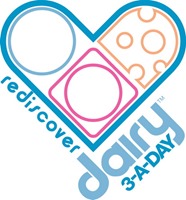 The logo and the trademarks reflect what we are all about.  Each of the three parts of the heart represents a dairy product, it can be explained as follows:
The blue circle is a glass of milk viewed from above
The pink square with the circle represent a yoghurt pot
The orange wedge represents a piece of cheese
The heart wrapped around these three icons indicates a complete whole, 'love dairy' it is wholesome and nutritious
Rediscover dairy™ refers to the fact that the project wants to bring all the benefits of dairy to the attention of the consumer. The consumer must discover these benefits yet again for him or herself. Too often does an adult forget how nutritious dairy can be for an individual of all ages. It is important to use dairy throughout life.
The 3-A-DAY™ represents the fact that a person should ensure that they have three portions of dairy a day
All the above elements together provide us with our identity
The purpose of the project is not only to serve the interests of the dairy industry but also to empower the consumer with information to help them make responsible choices
About the CEP project

We are communicating the health and nutritional benefits of dairy to consumers and health professionals. To learn more about the project, our logo and activities, click here…

Contact us and find us

                                                                                                               You can email us on: info@rediscoverdairy.co.za

To obtain our postal address or physical address and how to get here, click here…

                                                                                                       

Our stakeholders

The CEP project resorts under the auspices of Milk SA, where Milk SA is one of several companies within the Dairy industry of South Africa

Links to others

As an educational project we have many partners in the industry some on a national level and some on an international level. We co-operate with these organisations.
The Nature of the CEP

The messages of the CEP are communicated through various communication channels selected to reach the target market. Messages are formulated to speak to the needs of the target audience

For any queries

You can email us on: info@rediscoverdairy.co.za