Consumer Education Project of Milk SA
Consumer Education Project
The project aims to convey the health and nutritional benefits of dairy and is continually evaluated and developed.
The Consumer Education Project (CEP) is an initiative of Milk South Africa (Milk SA).  Milk SA is a voluntary, non-profit company set up to promote the development of the dairy industry. Its' members are MPO and SAMPRO.
The project is multidisciplinary as it uses expert knowledge from different disciplines that is communicated to the target audiences through television, radio and print. A combination of sound scientific information and good understanding of consumer behaviour anchors the project. The project conveys messages that cannot be communicated adequately through conventional branded advertising.
MAJOR ACHIEVEMENT: In 2011, the project received the IDF Dairy Innovations awards in these 2 categories 'Best Consumer TV / cinema and Social Networking campaign' and 'Best Generic Marketing Campaign'. The project has also received acknowledgements for its' TV advertisements from the South African organised advertising industry.
Purpose and nature of the Consumer Education Project
Communicating the health and nutritional benefits of dairy to consumers and health professionals
Elements of the project
The project consists of two main elements, which are performed on an integrated basis:
a General communication
General communication consists of general messages to consumers about the health and nutritional benefits of dairy products.
b Specialised communication
Specialised communication consists of pro-active and reactive scientific messages to health professionals regarding the health and nutritional advantages of dairy products.
The purpose of the project is not only to serve the interests of the dairy industry but also to empower the consumer with information to help them make responsible choices.
Supporting information
Milk SA administers regulations implemented in terms of the Agricultural Marketing Act, Regulation 57, as printed in the Government Gazette of the Republic of South Africa. In terms of the regulation, part of the income from the levies on dairy products should be spent by Milk SA on consumer education. In this regulation the following is stated:
"From a national point of view and to promote the viability of the dairy industry, consumers should be informed of the health and nutritional advantage of milk and other dairy products. Informed consumers will not only contribute to the national well-being in respect of nutrition and health, but especially also to the viability and sound development of the dairy industry. The education will be conducted in such a way that it will not erode the marketing activities of any firm in the dairy industry that are aimed at differentiating its products from that of competitors."
Messages are organised under the umbrella slogans
'Rediscover dairy' and 'Dairy gives you go'.
The 3-A-DAY™ message forms part of all communication.
a. Consumer messages
Six central themes shape messages to consumers, namely:
Growth – Dairy promotes growth through protein and calcium content.
Muscle development – Dairy builds muscle through protein and amino acids.
Skeletal health – Dairy strengthens bones because of its calcium content.
Weight loss – Dairy forms part of a low-fat diet.
Fat content – Dairy has less fat than generally perceived.
Nutritional content – Dairy is a nutrient-rich food, as it contains proteins, vitamins and minerals.
b. Health professional messages
Health professionals play a critical role in the short, medium and long term to convey messages in a credible way to all LSM* groups.
Scientific messages that communicate the role of dairy as part of a healthy lifestyle, and in treatment and prevention of lifestyle diseases such as hypertension and diabetes. Information regarding the role of dairy in sport nutrition is also communicated.
The messages are compiled and reviewed by members of the technical advisory committee as it requires expert knowledge in disciplines such as nutrition, food science and dairy science.
The above ensures that statements regarding the health and nutritional value of dairy products are fully substantiated by subject experts, who act objectively and use authoritative and relevant scientific information as proof.
*LSM: Living Standards Measure. A marketing research tool to gain a better idea of the socio-economic status of an individual or group in South Africa.
Identity and logo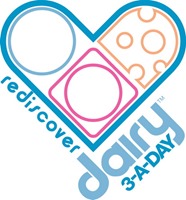 The logo and the trademarks reflect what we are all about.  Each of the three parts of the heart represents a dairy product, it can be explained as follows:
The blue circle is a glass of milk viewed from above
The pink square with the circle represent a yoghurt pot
The orange wedge represents a piece of cheese
The heart wrapped around these three icons indicates a complete whole, 'love dairy' it is wholesome and nutritious
Rediscover dairy™ refers to the fact that the project wants to bring all the benefits of dairy to the attention of the consumer. The consumer must discover these benefits yet again for him or herself. Too often does an adult forget how nutritious dairy can be for an individual of all ages. It is important to use dairy throughout life.
The 3-A-DAY™ represents the fact that a person should ensure that they have three portions of dairy a day
All the above elements together provide us with our identity